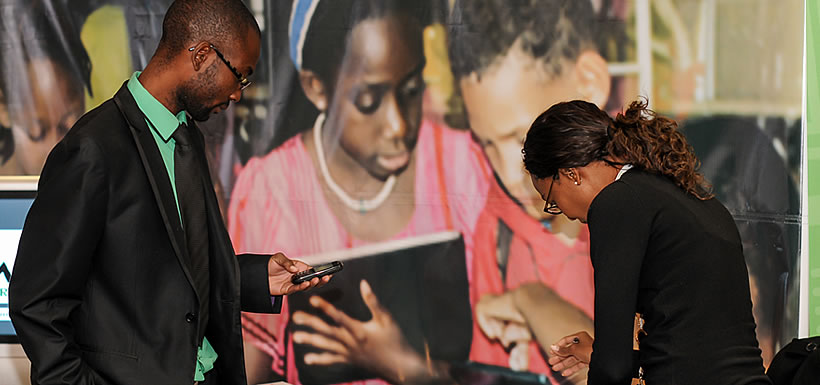 Programmes that Enable African Participation
The Social Media Reporter Programme
The aim of this programme is to strengthen the knowledge and networking of youth and their organisations in the area of eLearning in Africa and raise awareness before, during and after the conference on the topics and sessions presented there. Another aim is to enable direct and indirect stakeholders who are not physically present at the event to be updated on the conference proceedings and engage them in discussions. With this programme we hope that the participants will leave the conference with a boosted interest for ICT in journalism, education and politics and accumulated knowledge in social media reporting.
Please read more about the success of the 2014 programme here.
The target group for this programme is young people between the age of 18-28 in the fields of journalism, education, politics and ICTs. A requirement would be that participants are fluent in spoken and written English, preferably also French-speaking, experienced in the use of social media (especially Twitter). Some practical knowledge of journalism, writing and PR is preferred together with an interest in the theme of the conference.
The programme offers to cover travel costs to and from the conference where funding circumstances allow, registration fee waiver and a pre-conference workshop. Except for the opportunity to network with stakeholders within their sector, the participants will acquire the latest within ICT in relation to their sector.
Before the conference the social media reporters will be prepared by receiving information about the conference and to get acquainted with its aims and content. An online team coordinator will support and complement the efforts of the social reporters on site, to ensure that the contents produced on site are shared widely online. They will attend a social media workshop for skill-building, organised by a PR Officer. The participants will also manage and moderate a Twitter wall that includes the most important statements from the lectures, speeches and discussions at the conference. Other on site activities would be to publish reviews of the sessions and plenaries on the eLearning Africa News Portal, Use Social Networks such as Facebook for photo-posting and video-sharing and LinkedIn to relay the News Portal's articles or tweet quotes from the sessions. Selected volunteers will also be involved in a talk during the conference.
After the conference each social media reporter will write a report about their experiences.
To request an application form, please email application@easttrust.org. Application deadline: January 4, 2016.